Formulation
Supplement Facts
Serving Size: 1 Caplet
Servings per container: 30
Amount Per Serving
Resveratrol (from Polygonum Cuspidatum Root Extract)
100mg*
Acetyl-L-Carnitine
100mg*
Alpha-Lipoic Acid
100mg*
Quercetin Dihydrate
100mg*
Revatrol® Proprietary Whole Red Wine Grape Complex:

Grape Skin Extract (37% Polyphenols)

Grape Seed Extract (95% Polyphenols)

Grape Leaf Extract (50% Polyphenols)

100mg*
* Daily value not established. Other ingredients: Calcium Carbonate, Microcrystalline Cellulose, Stearic Acid, Croscarmellose Sodium, Magnesium Stearate, Silica and Film Coat (Hypromellose, Hydroxypropyl Cellulose, FD&C Red #40, FD&C Yellow #6, Titanium Dioxide, and Sodium Citrate.)
Revatrol contains the highest potency bio-flavonoids called oligomeric proanthocyanidins – or OPCs.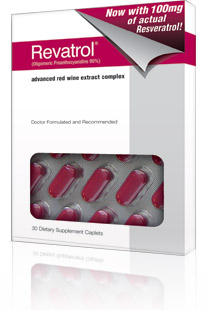 OPCs are VERY IMPORTANT because they fight free radicals that cause accelerated aging and are crucial for supporting healthy circulation and strengthening capillaries.
But you need a high concentration of OPCs in your body to get the full benefit.
So, the higher the percentage of OPCs you take, the more of the active ingredient you get, and the more powerful the free radical neutralizers you get working in your body. The highest amounts of OPCs are found in red wine.
They are also found in most berries, turmeric, apples and even dark chocolate… but they are the highest in red wine. Most brands of red wine supplements that compete with Revatrol have 5% of OPCs at best.
Some, have only a disgraceful TWO PERCENT, but…
"Revatrol has the most OPCs I've ever seen offered – an astonishing 95%!"