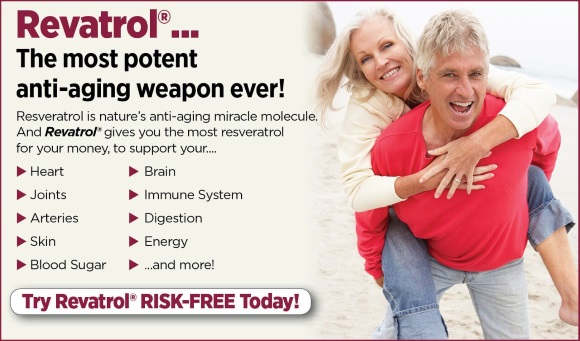 What if you could flip a switch and slow down – or even reverse – the aging process? What if you could somehow activate longevity genes that help you live a longer, healthier life?
Actually, you can. Because Revatrol® is designed to do just that. It's specially formulated with the best powerful anti-aging ingredients. Natural remedies clinical studies show can activate your longevity genesi. As well as strengthen your immune system and support cellular healthii.
Including...
Resveratrol: The Most Powerful
Health Secret in the Universe
There are two kinds of resveratrol. First, there is trans-resveratrol – also known as "Actual Resveratrol." Then there is CIS-resveratrol. And while both are found naturally in grapes and red wine extract, the CIS-form appears to have little or no health benefits.
But that's definitely not the case with trans-resveratrol.
Scientists have known for years that even a tiny amount of this compound can support cardiovascular health. And hundreds of clinical studies – including both animal and human models – suggest it helps combat age-related decline by...
And you won't find a more potent source or form of resveratrol than Revatrol®.
Developed by world-famous cardiologist Dr. William Gruss, each capsule of Revatrol® contains 100 mg of trans-resveratrol. So just what does that mean? It means you get the equivalent health benefits of 50 BOTTLES OF RED WINE!
You also get
19 times the OPCs!
Oligomeric proanthocyanidins (OPCs) are powerful antioxidants commonly found in grape seed extract. So they're a common component of red wine extracts.
However, most red wine extracts only include 5% OPCs. But not Revatrol®. It gives you an unprecedented 95% OPCs – a whopping 19 times more OPCs than you get in other supplements. And the highest concentration ever put into a formula.
This therapeutic dose helps power your circulation... strengthen your capillaries... and fight off deadly free radicals – the toxins in the air you breathe, food you eat, and water you drink.
Plus 3 more of the world's
most powerful antioxidants...
Revatrol® really is like nothing else on the market today. You get 100 mg trans-resveratrol. Along with the most OPCs of any red wine extract you can buy. Plus, you also get three of the world's most potent and effective antioxidants...
Alpha Lipoic Acid: This powerful antioxidant neutralizes free radicals to help protect your brain, eyesight, liver, and overall energy level. And because it's both water and fat soluble, it can get to all the places your body needs it – including your brain!xii
Quercetin: This antioxidant also occurs naturally in red wine. But it's found in highest concentrations in the skins of apples, tea, onions, nuts, berries, cauliflower, and cabbage. Quercetin has many of the same properties as resveratrol. And when the two are combined, it makes resveratrol work even better by increasing bio-availability!xiii
Acetyl L-Carnitine – The aging process is closely linked to decreasing mitochondrial membrane, which in turn also affects your energy levels. But ALC helps protect your mitochondrial membrane from decline. It also helps your brain and heart by transporting fats into your mitochondria so they can be burned to create natural energy that keeps your body moving and your heart pumping strongly. Simply put... you can't burn fat without it!xiv
We formulated Revatrol® to be the best anti-aging supplement you can buy. And that's just what it is. It contains no alcohol, sugar, or calories. And just one caplet a day gives you the nutrients your body needs to fight fatigue and feel more energized... protect your heart and arteries... and maintain healthy cholesterol levels. As well as help preserve your memory.
All this while helping keep your skin looking firm, fresh and vibrant. So you'll be...
Healthy On the Inside
Gorgeous On the Outside!
Beauty may be skin deep. But the ingredients in Revatrol® not only help get you healthy on the inside, they also make you look gorgeous on the outside. Because these 5 powerful anti-aging compounds destroy the free radicals that make you look older than you are.
That's because by keeping you healthy at the cellular level, they also help boost your blood flow. And not just to your organs, but to your skin as well. The result? They turn back the clock, giving your complexion back that soft, supple feel you remember. Along with a youthful radiance you'll positively love.
But don't take our word for it...
Try Revatrol® RISK-FREE
and discover the amazing difference
it can make for yourself!
Revatrol® is hands-down the best way to unlock the benefits of five of nature's most effective anti-aging remedies, including resveratrol. As well as the ultimate formula to help you take back your life. And it's also 100% RISK-FREE, backed by a full 60-day money-back guarantee of satisfaction. So you don't risk a single penny for trying it today.
What's more, you'll SAVE up to 47% off the regular price when you act now. Plus get up to three of our prized health guides – a $59.85 value, FREE!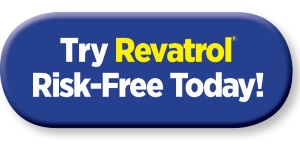 Try Revatrol® risk-free for 60 days. If you are dissatisfied, return all your unused product and we will refund your full purchase price, minus shipping and handling. Customer pays return shipping. No more than two bottles may be opened or used (your trial supply) may be opened or consumed. Offer is good for 60 days from receipt of product.
DISCLAIMER: Talk to your doctor or health care provider to determine if Revatrol™ is right for you and is safe to take with your medications. Do not start or stop any prescribed medication or treatment without first consulting your doctor or health care provider.